Welcome to my weekly dump of the geeky stuff in my life!  For the previous geeky list, click here.
I had to skip the past few weeks because #lifehappens.  Now that everyone isn't sleep deprived/sick/going to the ER (relax, everyone is FINE), I can actually get back to writing.  Yay!
What I'm Watching: Cars 3 and Moana.
Again.  Because I have a toddler.  Luckily, both movies still move me to tears even after I know every. single. part.
"McQueen is fading!… fading… fading…"
No, kid, Mommy is totally not crying… it's the pollen…
What I'm Reading: My own story.
That's the interesting way to say "Not a damm thing."  Also the interesting way to say, I actually did start writing that story I've been longing to tell! And I'm already so happy about where it's going.
What I'm Playing: A little a' this, a little a' that…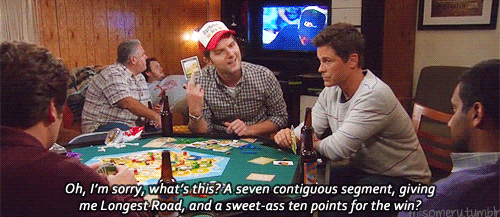 Like I said, it's been a rough two weeks, so it's a little blurry and nothing was out of the ordinary or primarily focused upon.  Summary:
Settlers of Catan (Did not win)
Dragon Age: Inquisition (Still on first playthrough, still questioning why Orlesians are so friggen extra.)
Call of Duty: WWII (Smuggler's fave. I play because I love him.)
Blocks, trains, trucks (Toddler's faves.)
What I'm Listening to: Icarus by Bastille
Do you love angsty, beautiful pop music? Do you have an obsession with ancient Greek mythology?  Then do I have the song for you!  Icarus has been on all my playlists for about a week now, and I'm still not sick of it.  It's oddly beautiful, catchy, and nerdy all at once.  *happy sigh* Take a listen below!
That's my four for this week!  What geeky things have been in your life this week?